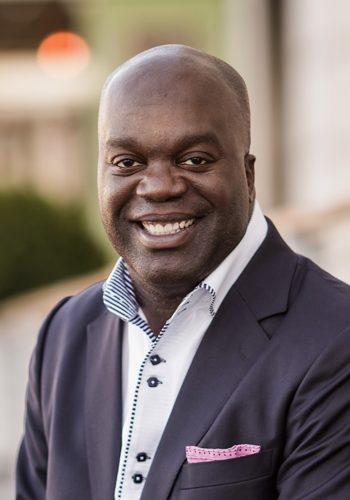 Simon T. Bailey
Inspiring Brilliance
Speaker Fee
$20,000 +
This speaker's honorarium
starts within this price range.
Click Here for our complete
speaker inquiry form.
For personal assistance
regarding any speaker,
please call us at
(406) 586-8775
Simon T. Bailey, Inspiring Brilliance
Energizing - Inspiring - Empowering
Simon T. Bailey is a Breakthrough Strategist  who has worked with more than 1,700 organizations in 46 countries, and whose life's purpose is to teach 1 billion+ people how to be fearless and create their futures.
He equips companies with the tools necessary to effect cultural transformation resulting in higher employee engagement and platinum customer service experiences. He challenges individuals to dig deep to find and release their inner brilliance and become Chief Breakthrough Officers - personally and professionally.
For personalized assistance with this speaker, please call (406) 586-8775 or email: info@innovativehealthcarespeakers.com.
More about this speaker:
Simon Bailey's 2020 Program Descriptions:
Leading with SPARK: Create a Culture Where Everyone Matters
Be the SPARK: Five Platinum Service Principles for Creating Customers for Life
SPARK: Act like an Employee and Think like a CEO
Accelerate Leadership Brilliance
Shift Your Brilliance: Leading Amidst Change and Uncertainty
Brilliant Living: Own Your Future
Releasing Leadership Brilliance for Educators
2020 Program Descriptions
Simon T. Bailey has been cited by Meetings and Conventions magazine as "one of the best keynote speakers ever heard or used," putting him in the same category as Bill Gates, General Colin Powell, and Tony Robbins.  Speaker Magazine cited him as one of the top 25 "hot speakers" shaping the profession and in 2013, Bailey was Meetings Net editors' pick for favorite speaker of the year.
With more than 30 years' experience in the hospitality industry, including serving as sales director for Disney Institute, Simon knows how to engage and inspire leaders and team members through his keynotes, workshops, books and online courses. He has personally worked with more than 1,800 organizations in 47 countries.
Bailey's book, Shift Your Brilliance – Harness the Power of You, Inc. is a call to action that invites readers to shift their thinking, creating a disruption from the norm that ignites innovation, increasing accountability, and profitability in life and business. He's the author of seven books including Release Your Brilliance: The 4 Steps to  Transforming Your Life and Revealing Your Genius to the World (HarperCollins), which was ranked number 17 of the top 100 books being read by corporate America, according to 800CEORead.com.
He is a weekly columnist for American City Business Journal and has been quoted in Entrepreneur magazine.  He has spoken in front of worldwide audiences and impacted over a million people working with brands like Verizon, Chevron, McDonald's, Nationwide, Wells Fargo and Subway.
Bailey holds a master's degree from Faith Christian University and was inducted as an honorary member of the University of Central Florida Golden Key International Honor Society.  He is a graduate of the Rollins College Executive Management Certificate Program, one of the top 25 best private graduate business schools in the U.S.
He lives in Windermere, Florida with his family.  When he is not working, Simon spends quality time with his two active teenagers, roots for the Buffalo Bills, and serves as a board member for the U.S. Dream Academy, Orlando Health Foundation, and Worldmaker.
1,800 Clients and Counting:
Julie Austin, Innovator/Inventor


Kristin Baird, RN, BSN, MHA