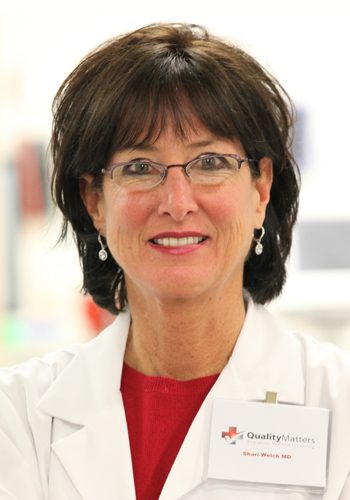 Shari Welch
MD, FACEP, FACHE
Speaker Fee
$6,000 - $9,000
This speaker's honorarium
starts within this price range.
Click Here for our complete
speaker inquiry form.
For personal assistance
regarding any speaker,
please call us at
(406) 586-8775
Shari Welch, MD, FACEP, FACHE
Dr. Welch has been a practicing emergency physician for over 26 years and a healthcare quality improvement consultant for over 15 years. She speaks to hospitals and organizations across the country on Quality, Safety, Efficiency and the Patient Experience of Care. She is an expert in Engaging and Aligning Physicians in a Quality Agenda.
For personalized assistance with this speaker, please call (406) 586-8775 or email: info@innovativehealthcarespeakers.com.
More about this speaker:
Current COVID-19 Topics:
Patient Flow in the Age of COVID 19
Emergency Department Modifications in the Era of the Pandemic
Demographic Trends in ED Utilization Before, During, After COVID
Dr. Welch's Presentations & Outlines:
Dr. Welch is currently an independent consultant, a research fellow at the Intermountain Institute for Health Care Delivery Research and a practicing physician licensed in Utah and Texas. She is board certified in Emergency Medicine and in healthcare management by the American College of Healthcare Executives.
Dr. Welch was formerly the Quality Improvement Director for the emergency department at the flagship hospital for Intermountain Healthcare. She has served on the clinical faculty at the Institute for Healthcare Improvement (IHI) and worked as a consultant in clinical operational efficiency and safety. She has served as a technical expert on quality for the Centers for Medicare and Medicaid Services (CMS) and for the Canadian Health System.
Dr. Welch has written four books on quality and safety and has published over two dozen articles in medical and quality journals. Her latest book contract with Health Administration Press focuses on successful change management in healthcare. She has spoken at the National Forum, the American College of Emergency Physicians, and the ACHE Spring Congress and Clusters. She writes a column on operational efficiency for ACEP Now.
"...Dr. Shari Welch is known in the specialty of emergency medicine as a writer, researcher and speaker.  She has long had an interest in healthcare administration and speaks widely on these subjects. Dr. Welch has a reputation for doing an excellent job on these kinds of projects, as both a researcher and a speaker.  I recommend her to you without reservation."
Brent James MD, Intermountain Institute for Healthcare Delivery Research
"I have personally known Dr. Welch for years and feel that her unique blend of experience and communication talent will be able to successfully address any healthcare audience. Under her energetic and passionate leadership she has helped to make hospitals as functionally successful as possible."
Richard Bukata, President, The Center for Medical Education

"Dr. Shari Welch was the keynote speaker for our annual Risk Management Conference at Banner Health in Phoenix. She was very well received by the physicians, providers, and nursing staff. She is an expert in the areas of ED Operations, Efficiency, Quality, Safety, and Flow. Dr. Welch provides realistic solutions and strategies that work. Her passion and enthusiasm lend themselves to innovative solutions in healthcare."
Ingrid Pautz, Healthcare Consultant, Banner Health

Mark L Dean, VP Jewish Hospital and St. Mary's: "Dr. Welch was a foundational key to our success in driving innovative improvement and integration through our 7 hospital system. She brought us fresh ideas, grounded in the experience of other leading health care organizations. More importantly, as a practicing ED doc herself, she was able to connect with our physicians, inspiring them to adopt new and leading edge practices. Dr. Welch is that rare practitioner-consultant that can bridge the gap between executive leadership and clinicians. Her expertise, enthusiasm, and inspiration were critical to our success!
Jeffrey A. Weisz, MD


Brian Wong, MD, MPH, CEO