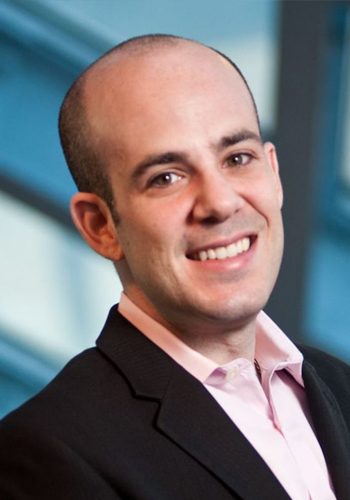 Scott Steinberg
Innovator/Strategist
Speaker Fee
$9,000 - $12,000
This speaker's honorarium
starts within this price range.
Click Here for our complete
speaker inquiry form.
For personal assistance
regarding any speaker,
please call us at
(406) 586-8775
Scott Steinberg, Innovator/Strategist
WORLD'S LEADING BUSINESS STRATEGIST – MEET FORTUNE MAGAZINE'S MASTER OF INNOVATIONScott Steinberg is a best-selling Author, Futurist, and Thought Leader on Strategic Innovation.One of America's top futurists (per the BBC); the author of Make Change Work For You and Millennial Marketing; and among today's top business strategy + leadership training providers, the Fortune 500 calls him a "defining figure in business + technology" and "top trendsetter to follow." A source of thought leadership, insight, and consulting for over 1000 leading brands, and advised on household-name products found in 100+ million homes. Scott Steinberg brings all of this to your organization along with how to apply it to your own team; whether a leading hospital system, association, or a rural hospital.
For personalized assistance with this speaker, please call (406) 586-8775 or email: info@innovativehealthcarespeakers.com.
More about this speaker:
Speaker's Topics:
LEADING THROUGH DISRUPTION: HOW TO THRIVE AMID UNCERTAINTY
THINK LIKE A FUTURIST: HOW TO SEE TOMORROW TODAY
SIMPLE CHANGE, BIG IMPACT: HOW TO DO MORE WITH LESS AND PIVOT YOUR WAY BACK TO SUCCESS
CUSTOMER EXPERIENCE IS EVERYTHING: DESIGNING PRODUCTS, SERVICES AND SOLUTIONS THAT CONNECT
LEADING WITH INNOVATION: HOW TO FUTURE-PROOF YOURSELF, FEARLESSLY INNOVATE, AND SUCCEED DESPITE DISRUPTION
CHANGE MANAGEMENT: CREATING A CULTURE OF INNOVATION
FAST >> FORWARD: HOW TO TURBO-CHARGE BUSINESS, SALES, AND CAREER GROWTH
DEFENDING AGAINST DISRUPTION: MAINTAINING CYBER SECURITY IN THE AGE OF DIGITAL TRANSFORMATION
For a Full Description of Scott Steinberg's Presentations Click here: Steinberg - Speaking Topics for 2021
Examples of Recent Engagements:
Redefine the Future of Leadership + Workforce Development - PwC and Hewlett Packard
Reimagine the Shape of Retirement – Wells Fargo
Reengineer the Digital Transformation Roadmap – IBM, Deloitte and Accenture
Rethink Cybersecurity Strategies – Symantec, ESET, and McAfee
Reinvent Tomorrow's Cities for Millennials - League of California Cities
The full Chase: Master of Innovation Series
Hailed as The Master of Innovation by Fortune magazine, and World's Leading Business Strategist, award-winning strategic consultant, trends expert, and professional speaker Scott Steinberg is a bestselling expert on leadership, change + innovation. A go-to resource for C-level leaders, he has served as a source of thought leadership, insight, and consulting for over 1000 leading brands, and advised on household-name products found in 100+ million homes.
One of America's top futurists (per the BBC); the author of Make Change Work For You and Millennial Marketing; and among today's top business strategy + leadership training providers, the Fortune 500 calls him a "defining figure in business + technology" and "top trendsetter to follow."
A strategic adviser to CEOs and four-star generals, firms like IBM, PwC, and the US Department of Defense regularly seek his insight. As the CEO of BIZDEV: The International Association for Business Development and Strategic Partnerships, and management consulting + market research firm FutureProof Strategies, he helps partners stay one step ahead of emerging trends – and drive growth around them.
One of the world's 150 most influential keynote speakers + futurists, and today's #1 generations expert and technology expert (per Google), he offers breakouts, workshops, and speeches at meetings/events, and has consulted on dozens of industry-leading solutions. A noted content strategy, social media + communications expert, his eye for business analysis has also led to work as an insider for 600+ media outlets from CNN to The Today Show. From Dell to MTV, he's worked with many top brands to drive success. An expert witness + board member who advises C-level leaders, attorneys + investors, he also offers sales and media training, and hosts many executive summits.
"One of the best gurus on innovation + competitive advantage strategies to accelerate growth." -European Commission
"If you really want to know about business, you should refer to Scott Steinberg."- Richard Branson, Founder, Virgin
"Scott delivers a clear and succinct study of industry trends and winning company cultures. His strengths are that he delivers "in the moment" information and examples of pertinent industry issues that resonate well with the audience. I expect to see Scott back at LifeNet Health talking at our various company forums."
Rony Thomas, President & CEO, LifeNet Health
"An expert speaker and facilitator of executive board retreats, Scott comes highly recommended for senior leadership events and programs. His high-impact, high-energy presentations offer a wealth of ideas, inspiration and insights…"
Dr. DeWayne McCamish, President, American Association of Orthodontists
"Scott's speech was an eye-opener for EMC. Insights from his talk, specifically his comments on how to build and foster an innovative culture, and research he covered regarding game-changing innovation in large enterprises, enabled us to spark change and innovation on a global scale. As a keynote speaker for thousands of EMC employees, customers, and partners, and in intimate conversations with top executives, Scott was a dynamo. I highly recommend him to any company interested in building innovative culture, disruptive problem-solving approaches or positive change in their organization."
Calvin Smith, Principal Manager, Global Innovation & Marketing, Dell EMC
"In a world of progressive, emerging technologies and automation, Scott's speech couldn't have been timelier. He understood the nuances of our industry and tailored the talk perfectly. Scott was a pleasure to work with and we would recommend him wholeheartedly to anyone searching for a vibrant and thoughtful speaker."
Debi Hamill, CEO, International Association of Outsourcing Professionals
"Scott delivered an inspiring keynote session on 'Innovation in the New Era of Smart' at the IBM BusinessConnect event in Dubai. His speech was thought provoking, coherent and succinct , backed by real world innovation examples from his consulting experience. It was one of the best sessions that I have ever attended, and he held the audience engaged throughout his session. I highly recommend Scott for key note sessions on Innovation and Business Strategy."
Logan Vadivelu, Worldwide Smarter Process Solutions Leader, IBM
"With over a hundred Russian agency and marketing executives attending, Scott's Leading with Innovation presentation at our Microsoft Advertising event in Moscow provided pertinent insight into the challenges facing one of the fastest-changing industries out there: online advertising. Drawing on a wealth of case examples and industry research, Scott's arguments underpinning the need to espouse the mantra of innovation in business hit the mark. With a high level of energy, pace and a healthy dose of good humor, Scott captured the audience's attention and helped contribute to a really rewarding event. We're already planning the next one…"
Bela Papp, Microsoft Advertising CEE & MEA
"Scott is a polished speaker with the ability to inspire leaders and help them connect innovative ideas with practical business solutions that they can implement into their operations to drive immediate change and growth."
Jason Barnhart, Director of Prof. Development, Public Relations Society of America
We invited Scott to participate in a high profile management training course at our company. His involvement included contributing to the development of the content as well as delivering his message on video. The outcome was spot-on – not only by infusing his brand of knowledge and expertise but by energizing and challenging the participants. His messaging was relevant and relatable. Aside from this, he is one of the most professional and easy to work with collaborators I have ever dealt with.
Sr. Producer, OptumRx
Best session so far…. It was insightful and encouraged action [combined] with practical advice. I very much appreciated the multiple tips to help exercise judgment on organizations' current state and questions to ask directly of boards/employees. It offered informative, tangible takeaways. Fabulous – 4.9 out of 5 stars!
National Association of Corporate Directors
"Scott did a fantastic job encouraging our company's business leaders excitement and curiosity in changing technologies. His message was perfectly on point."
Tom Bauer, CIO, Hagerty
"Scott was a dynamic, to-the-point speaker. His real world examples of how companies can innovate in small, yet impactful ways, was refreshing and well-timed. In the field of corrections, we often are stymied by the daunting path of system reform. After hearing Scott speak, many of our staff began to rethink the go big or stay home approach and began to brainstorm small, innovative ways to improve the criminal justice system."
Dr. Brian Lovins, Harris County CSCD and American Probation & Parole Association
"Scott spoke and was a tremendous success! His wealth of professional experiences translated into truly engaging stories that helped apply the rich content of his book into practical, useful and actionable steps. Participants thoroughly enjoyed Scott's warm and engaging personality, along with the tools he recommends for overcoming fear and effectively competing in today's ever-changing work environments."
Lawrence Chomicki Jr., Treasurer, Association of Change Management Professionals
"I wholeheartedly recommend Scott as a speaker and presenter. He recently gave a keynote address and received high marks from the audience, and brought home to them the importance of creating a culture to implement change. He was easy to work with in developing content, able to build his presentation to fit our audience, professional, and engaging."
Liz Whitney, Senior Manager, Education & Meetings, International Warehouse Logistics Association
"Scott is a top-notch thinker, strategist, and advisor. After just a brief conversation about potential applications to the nonprofit sphere, I left with a toolbox of strategies to test and new ways of thinking. Scott is very insightful, down-to-earth, and clearly passionate about what he does."
Kristin Boehne, Manager Strategic Projects, United Way
Scott's session was very well-received by our attendees. He was our closing keynote speaker and his motivational message about driving change through innovation and growth was a perfect way to end a successful event!
California Bankers Association
"Scott is a fantastic speaker. He energizes the audience and he is relevant with his message."
RD Whitney, Executive Director, The Institute of Finance and Management
Ajit Singh, PhD, Former CEO of Siemens Oncology & Siemens Imaging Sy...


Joe Tye, MBA