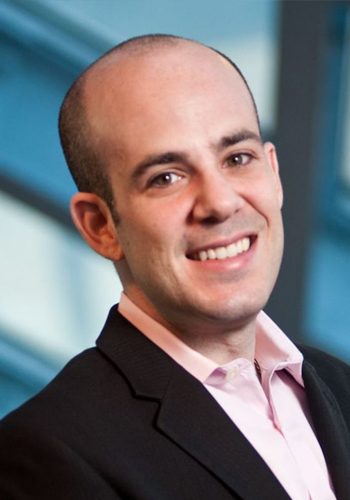 Scott Steinberg
Innovator/Consultant
Speaker Fee
$9,001 - $12,000
This speaker's honorarium
starts within this price range.
Click Here for our complete
speaker inquiry form.
For personal assistance
regarding any speaker,
please call us at
(406) 586-8775
Scott Steinberg, Innovator/Consultant
Hailed as The Master of Innovation by Fortune magazine, and World's Leading Business Strategist, award-winning strategic consultant, trends expert, and professional speaker Scott Steinberg is a bestselling expert on leadership, change + innovation. One of America's top futurists (per the BBC); the author of Make Change Work For You and Millennial Marketing; and among today's top business strategy + leadership training providers, the Fortune 500 calls him a "defining figure in business + technology" and "top trendsetter to follow."
For personalized assistance with this speaker, please call (406) 586-8775 or email: info@innovativehealthcarespeakers.com.
More about this speaker:
Speaker Topics Focus On:
Create High-Performance Cultures
Create A Culture of Innovation
Build and Maintain Competitive Advantage
Generational Differences - Millenials to Baby-boomers
Empower Teams and Individuals
Enhance Leadership and Decision-Making Skills
Improve Customer Service
Shape Powerful Communications Strategy
Foster Change and Diversity
Examples of Recent Engagements:
Redefine the Future of Leadership + Workforce Development - PwC and Hewlett Packard
Reimagine the Shape of Retirement – Wells Fargo
Reengineer the Digital Transformation Roadmap – IBM, Deloitte and Accenture
Rethink Cybersecurity Strategies – Symantec, ESET, and McAfee
Reinvent Tomorrow's Cities for Millennials - League of California Cities
A strategic adviser to C-level leaders and four-star generals, firms like IBM, PwC, and the US Department of Defense regularly seek his insight. As the CEO of BIZDEV: The International Association for Business Development and Strategic Partnerships, and management consulting + market research firm FutureProof Strategies, Scott Steinberg helps partners understand emerging trends – and drive growth around them.
One of the world's 150 most influential keynote speakers + futurists, and today's #1 generations expert and technology expert (per Google), he offers breakouts, workshops, and speeches at meetings/events, and has consulted on dozens of industry-leading solutions.
A noted content strategy, social media + communications expert, his eye for business analysis has also led to work as an insider for 600+ media outlets from CNN to The Today Show. From Dell to MTV, he's worked with many top brands to drive success. An expert witness + board member who advises C-level leaders, attorneys + investors, he also offers sales and media training, and hosts many executive summits.
"An expert speaker and facilitator of executive board retreats, Scott comes highly recommended for senior leadership events and programs. His high-impact, high-energy presentations offer a wealth of ideas, inspiration and insights…"
Dr. DeWayne McCamish, President, American Association of Orthodontists
"Scott Steinberg delivers a clear and succinct study of industry trends and winning company cultures. His strengths are that he delivers "in the moment" information and examples of pertinent industry issues that resonate well with the audience. I expect to see Scott back at LifeNet Health talking at our various company forums."
Rony Thomas, President & CEO, LifeNet Health
We invited Scott to participate in a high profile management training course at our company. His involvement included contributing to the development of the content as well as delivering his message on video. The outcome was spot-on, not only by infusing his brand of knowledge and expertise but by energizing and challenging the participants. His messaging was relevant and relatable. Aside from this, he is one of the most professional and easy to work with collaborators I have ever dealt with.
Sr. Producer, OptumRx
Scott delivered an inspiring keynote address at our strategic retreat. The combination of theory and life experiences he presented, coupled with industry examples, delivered a powerful message that stimulated much thought and discussion from our leadership. I highly recommend him and look forward to working with him on future projects.
Alan Bornick, Chief Human Resources Officer, LifeNet Health
Ajit Singh, PhD, Former CEO of Siemens Oncology & Siemens Imaging Sy...


Joe Tye, MBA