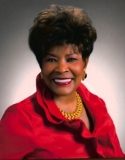 Bernice J. Washington
Speaker
Speaker Fee
$9,001 - $12,000
This speaker's honorarium
starts within this price range.
Click Here for our complete
speaker inquiry form.
For personal assistance
regarding any speaker,
please call us at
(406) 586-8775
Bernice J. Washington, Speaker
Bernice J. Washington is a veteran trustee having served on Texas Health Resources Boards for more than 20 years. In addition to Texas Health Resources, she has served on 18 other Boards of Directors and has held major leadership roles in six (6) multi-million dollar fundraising campaigns.
For personalized assistance with this speaker, please call (406) 586-8775 or email: info@innovativehealthcarespeakers.com.
More about this speaker:
Sample Presentation and Retreat Topics:
Delivering Results in a High Performance Environment while Balancing YOUR FBI (Family, Business, and Interest)
Physician Hospital Alignment: Finding Common Ground
Culturally Competent Care: Closing the Gap
The Importance of Philanthropy in Today's Market
Mrs. Washington is President and CEO of BJW Consulting Group, LLC and is a nationally recognized successful businesswoman with more than three decades of experience in sales, marketing and management. Mrs. Washington is a retired executive from Bayer Healthcare, an International Healthcare Company. Her responsibilities included sales and marketing of more than $50 million annually of diagnostic healthcare products to key clients.
She draws upon her own personal experience as a trustee, healthcare executive and Certified Master Coach to deliver behavior changing keynote facilitate board discussion and enhance problem-solving skills. Mrs. Washington is a highly regarded keynote presenter and effective facilitator.
Current board of directors include:
Texas Health Resources - Presbyterian Hospital Plano (Former Chair)
Texas Health Resources - Presbyterian Healthcare Resources (7 Hospitals) Vice Chair
American Hospital Association - Regional Policy Board 7
DFW International Airport Board - (Chair-Operations & Former Chair, Finance Committee)
Salvation Army (Public Relations Chair)
Mrs. Washington is a member of the National Speaker's Association, Meeting Professional International and is a sought after television and radio talk show commentator. She has been featured in movies, magazines and news stories including Philanthropy World Magazine. Mrs. Washington holds an M.B.A-University of Missouri (Economic Policy and Public Planning); is a Registered Medical Technologist, MT (ASCP) Research Hospital and Medical Center-Kansas City, Missouri; has a B.S. from Southern University-Baton Rouge, LA in Bacteriology/Microbiology and is a Certified Master Coach by the Behavioral Coaching Institute and is a member of The International Coaching Council (ICC).
Mrs. Washington is married to Lt. Col. (Ret) Lymon Washington, Jr. for 35 years and they have two adult children Andrea Renee and Michael Benjamin.
Dan Waldschmidt, Speaker


Jeffrey A. Weisz, MD